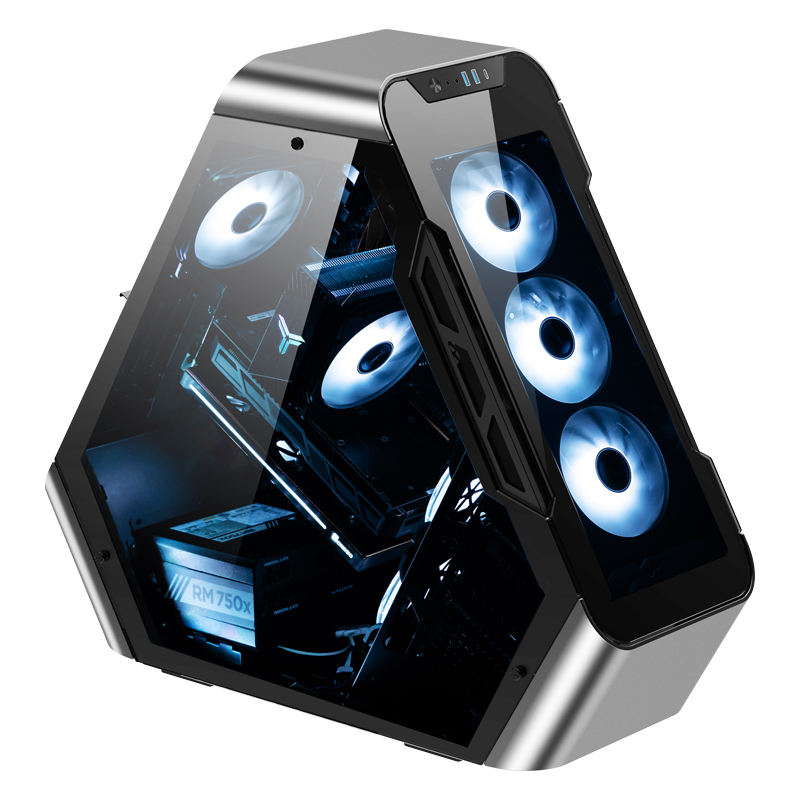 TR03-G Silver
TR03 is a high-end ATX case developed based on triangular elements, the triangle hardware is made with 4MM thickness aluminum by innovative extrusion process. The main structure adopts structural integrated process with inner steel and outer aluminum to ensure the structural strength and avoid the transmission of resonance noise.
TR03 does not sacrifice hardware support with its unique structure, even 360mm length liquid radiator and 175mm height air cooling radiator can be installed. Besides, up to 460mm video card is supported and installed horizontally.With its sturdy video card protection stand even high-end video card will not be sagged by gravity. For light effects display, TR03 provides users with variety ways of display, with its internal removable hardware, water and light panels can be vertical or side mounted, vertical bracket can provide air partition light effects cooling channel. There are positions for installing totally 10 light effects fans which allow users to have multi-view light effects display. With its reserved position for installation of water tank and water panel, it provides very good support for split type liquid radiator.
Specifications
Gallery
Features
Videos
Reviews
Downloads
There's no video right now.
Copyright 2018 东莞市思博四通实业有限公司 版权所有