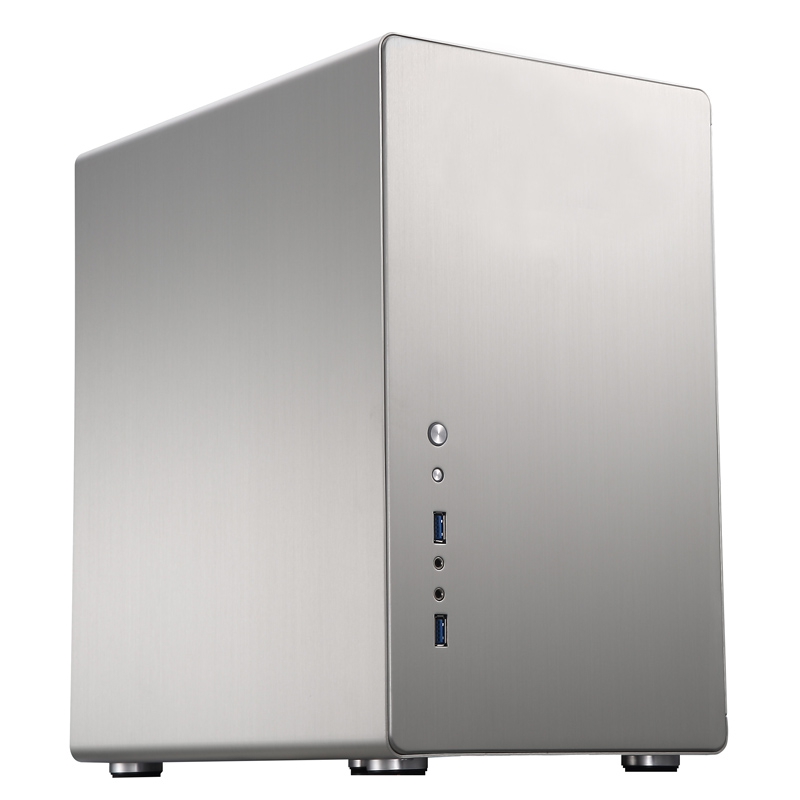 RM2 Silver
RM2 is launched in 2015 Mid-year by JONSBO team with the theme of supporting ATX motherboard. RM2 is made from full magnesia-alumina material, the design style goes on with the sense of elegant, simple streamline and strong metallic. Different from previous U series' R angular design, RM2 adopt an innovative 360 degree round packaged type design, it perfectly supports not only dual-slots display cards within 290 mm but also cross-fire display cards. It really provides user with a powerful mini platform.
Concerning with the materials and workmanship, the entire outer shell of RM2 is made from l.8 mm magnesia-alumina alloy material, with Jonsbo team's accumulated experience of wiredrawing anode surface processing craft from many years, dual high-speed USB 3.0 interfaces, gold stamped wiredrawing feet, metal CD texture buttons, difficultly built unibody U type main body with integrated nail buried process, there is no screws appearing on top, in front and on sides.
With RM2, users will have a good opportunity to upgrade and expand their machine. Limited by high cost of raw materials, the prices of traditional full aluminum ATX cases are very expensive. Because of their small sizes they usually do not support traditional ATX motherboards, there are many restrictions for users to expand and upgraded their systems. RM2 Lets traditional users experience the idea of integrated furniture design and feeling of metallic texture which are advocated by Jonsbo. In addition DIYers can have more choices of motherboards and display cards.
Specifications
Gallery
Features
Videos
Reviews
Downloads
Copyright 2018 东莞市思博四通实业有限公司 版权所有